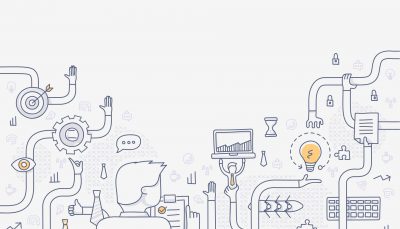 In today's fast paced, tech-heavy world, leveraging on your business's data trends and integration will give you a competitive edge. By using a combination of business and technical processes, you can obtain and derive data to gain valuable insights to your business operations. Having a set of relevant data is key to the success of your business. It helps with decision making in various aspects such as marketing, inventory management, customer management and profit generation. However, analyzing said data and creating an action plan to improve your business is often easier said than done.
What are the types of data you require?
With a cloud-based server, you are able to gain real time access to your account. Cloud-based servers also provide consistency in data with single-point integration and real time updates. This will assist your business in recording various types of data such as daily sales, total revenue, profit margin, customer preferences etc.
Total Gross Revenue: Total Sales
Gross Profit: Profit after deducting cost of goods sold
Average Check (AC): Average transaction amount per table or bill
Total Check (TC): Total transaction volume
In today's article, we will be focusing on the points above and dig in deeper to find out what information and decisions are affected by them.
Where to obtain said data?
These data are little nuggets of information that could really benefit your business. So now the question is how are you going to obtain all the above-mentioned data? Most business processes can now be managed online or through various software and applications. Technology advancement allows for remote monitoring and control to ease and streamline your workload.
A Point-Of-Sale (POS) system is one thing that I would highly suggest any consumer businesses to invest in as it will make your work a whole load easier and productive. Notice how I said invest instead of purchase? Because that is exactly what it is; by spending a little amount, you can gather information that would be near impossible for you to collect manually.
This is why the Point-of-Sale (POS) system has replaced traditional cash registers and hand-written invoices. In comparison to a traditional till which can only provide information like daily total sales, a digital POS System can capture and supply you with additional information. A cloud based POS system allows you to extract, breakdown and consolidate all the important data that illuminates details and assists you in making business decisions. Not to mention, it can also help cut down on manpower hours for daily routine work like inventory management and sales reporting.
If your business is lacking a POS system, you can refer to this article to find out what to look for when selecting a POS system and the information that it can provide you with.
So, how do you use the data obtained?
With the various data, you might be unsure on how you should start. We would recommend you to start by monitoring your average check (AC) and work to increase this amount.
Your AC represents your average transaction amount. Put simply, the larger the average check is, the better, as this reflects the amount each table/customer is spending. (AC = Total Sales/Number of Transaction)
Therefore, your AC amount should be stable and should not fluctuate too much on a day to day basis. If there are fluctuations in your daily AC, there is a need to find out the reason so that a solution can be implemented. Is the reason a change in products, marketing or even staff who are unsure how to upsell? This will enable you to carry out a suitable action to increase your AC and prevent fluctuations.
Average Check
The first step to increase your business' overall revenue is to increase your AC. Various methods can be implemented to bring up your AC. It can be influenced by your service personnel depending on the experience they provide the customers with and how they upsell and cross sell various items. You can refer to this post on how an efficient staff training program can increase your AC. Another way to improve your AC is by having promotions that enforces a minimum spending. E.g. Spend $100 to recieve a $10 cash voucher.
This way, you will be able to focus on your already existing market instead of trying to increase your turnover or customers. Therefore, even though the number of customers that you are serving remains the same, you are able to achieve an increase in your revenue.
With your AC, you can now have a better idea of your consumers' behaviour. It will provide you with related data such as the number of people per table . This information allows you to make business decisions such as redesigning your restaurant seating layout to optimise your turnover rate and cut down waiting time for tables.
Heat Map
As mentioned previously, your POS system should be able to generate data that helps you in making business decisions. A product mix report is essential for identifying your profitable products. With a POS system that can capture said data, not only can you easily identify your popular products, slow moving products will also be highlighted to you.
To better illustrate the point, we will refer to the heat map below. From the heat map, we can now get a view on how your products affect your sales figure.
Generally, there are 4 main categories of products; Core Products, Hot Seller, Loss Leader and Unsought Products.
What affects the profit margin and revenue?
There are many variables which might play a part in influencing your profit margin and revenue. Your discounts, promotions and suppliers affect the cost, net sales and net profit of your business. Daily comparison of sales report can give you an overview of how business is like day to day. High cost products may have fluctuations as their target audience is limited to consumers with high spending power.
With the product mix chart, profitable products can be pinpointed accurately. With the knowledge of your best sellers and slow selling products, you can effectively strategies your marketing and plan your inventory to minimise wastage and stockpiling.
A good database should also reflect the situation in your chain stores, under comparison, you will be able to understand the shop that is raking in the most revenue? Timing, location and crowd will all contribute to the data, therefore it is crucial that you are able to gather the information along with a sales breakdown. Some questions that you can answer after analysing the data are as follow.
Do you have several outlets in different regions?

What is the difference in your sales and what contributes to the difference?
Are there any special promotions that a particular outlet can adopt to target the regional/local crowd?
Customer/Member Management
Customer Relationship Management (CRM) is a module with data collection and analysis that allows customer engagement, marketing automation and provides a point of contact. A CRM that is comprehensive will include functions that allows you to customise your products and promotions to meet your customers' needs.
Why use CRM?
Many small business owners might not be willing to invest in CRM. It is a single data collection point that can be used throughout all the teams and individuals in the business. All the information can be logged into the CRM module and will be available for all to view when needed. Some businesses might find an excel spreadsheet sufficient for such needs. However, spreadsheets can only be used for logging and manual tracking of information. In a CRM module, there can be automation to reduce manpower while eliminating human error.
Other than serving as a hub where each individual customer's information is stored, it is also a handy tool for marketing and business decisions. It will be a breeze for you to track the spending habits of your customers and the trend that is tacked to them. Data and charts can provide an overview of their spending history to pick up any possible changes in their tastes and preferences. This information will be the factors that can make or break a marketing plan. In the end, your marketing strategy will be targeted at the end users which are essentially your customers.
With the data, you are able analyse your customers' data and their interaction with your brand. This is a great chance to collect feedback on their experience to improve the relationship between you and your customers, hence enabling you to increase your sales growth from your existing customer base.
Contact Us!
Now with all the information on hand, we hope that you can better utilize your data on hand to move your business to another level. If you are interested in more in-depth insights and business consultancy services, keep your eye on this space for the next article or contact us now at sales@weebo.com.sg!